One Window Seal Cards - 660 Tickets with $200 Top Prize
Our One Window Seal Card Pull Tabs include popular games such as Coffee Shop, Put Down My Nuts and At The Bar Seal Cards. Feel free to browse our Five Window Seal Cards, or contact us at 1-800-233-0828 to see if we carry your One Window Seal Card Game. All Seal Card Pull Tabs are in stock for fast shipment.
More Seal Cards (Click on Numbers at Right) | NEW | 1 | 2 | 3 | 4 | 5 | 6 | 7 | 8
ALL TITLES IN STOCK AND AVAILABLE FOR QUICK DELIVERY!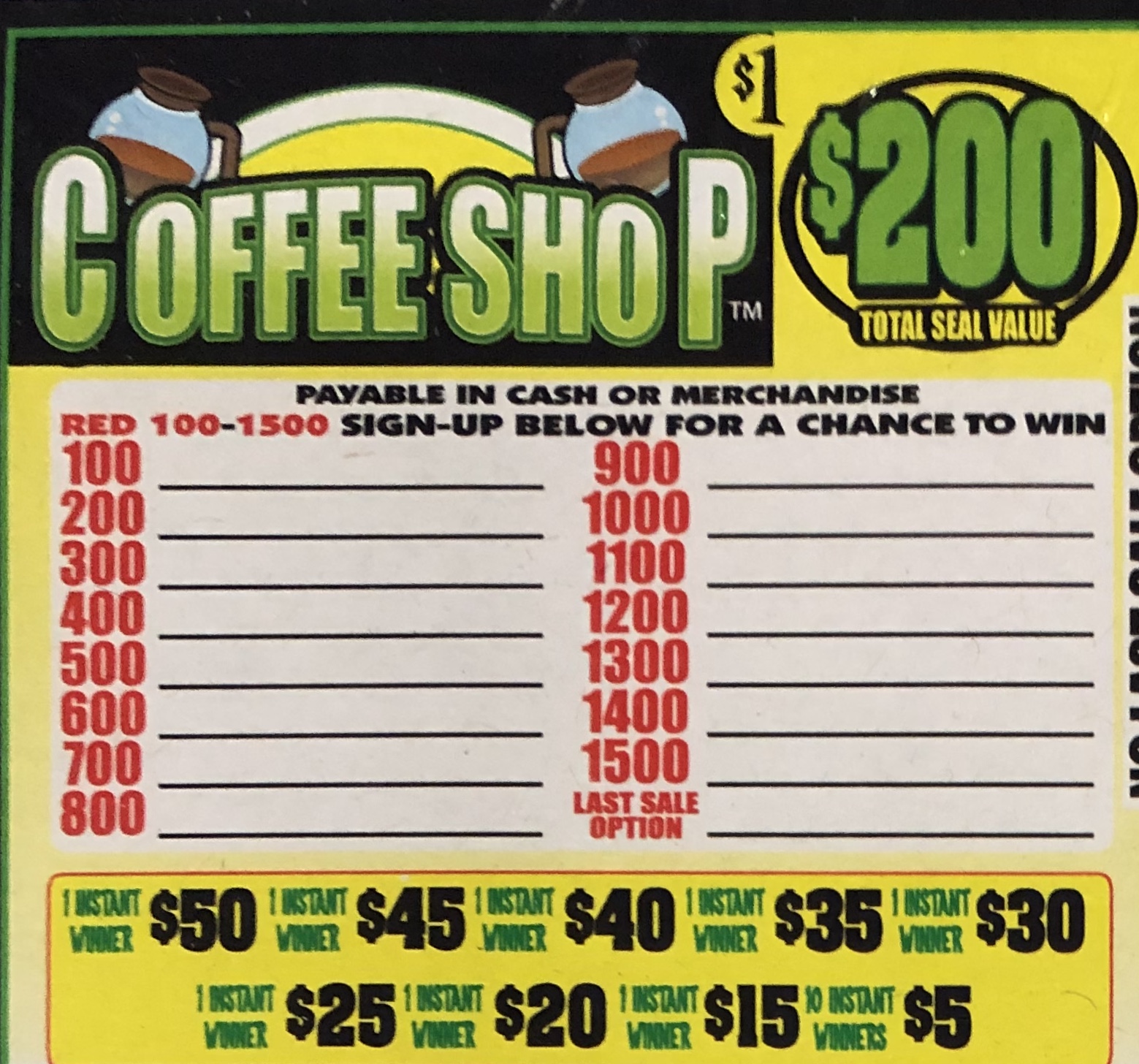 Coffee Shop - Form #1W660CSC
Takes in 660
@ $1.00
$660.00
PAYS OUT
1 Seal Winner
@ $200.00
$200.00
or
2 Seal Winners
@ $100.00
$200.00
or
4 Seal Winners
@ $50.00
$200.00
1 Instant Winner
@ $45.00
$ 45.00
1 Instant Winner
@ $40.00
$40.00
1 Instant Winner
@ $35.00
$35.00
1 Instant Winner
@ $30.00
$30.00
1 Instant Winner
@ $25.00
$25.00
1 Instant Winner
@ $20.00
$20.00
1 Instant Winner
@ $15.00
$15.00


PAYOUT
77.3%
$510.00
PROFIT
22.77%
$150.00
Price
$26.84 - Each
$298.08 - Case OF 12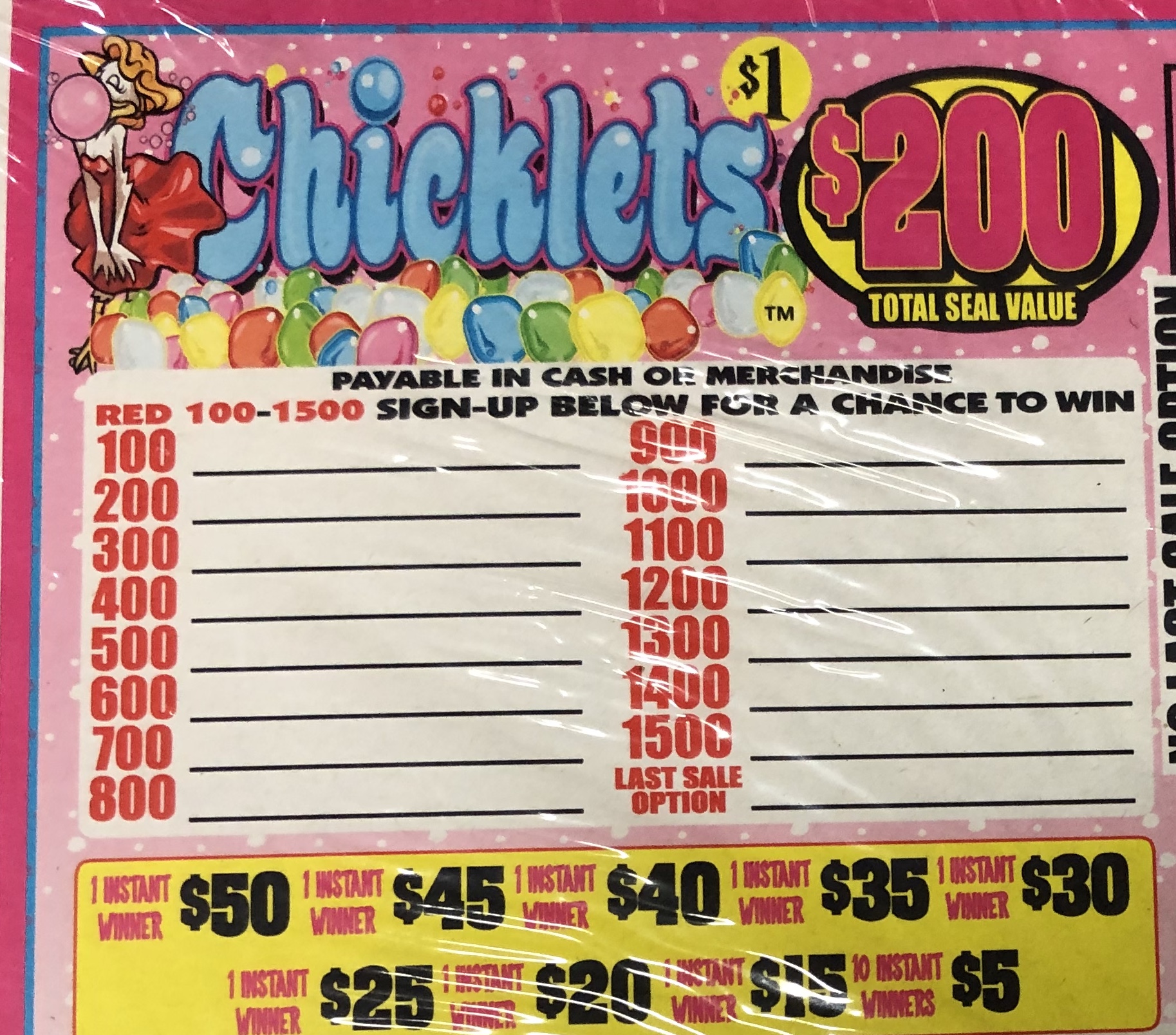 Chicklets - Form #1W660CHIC
Takes in 660
@ $1.00
$660.00
PAYS OUT
1 Seal Winner
@ $200.00
$200.00
or
2 Seal Winners
@ $100.00
$200.00
or
4 Seal Winners
@ $50.00
$200.00
1 Instant Winner
@ $45.00
$ 45.00
1 Instant Winner
@ $40.00
$40.00
1 Instant Winner
@ $35.00
$35.00
1 Instant Winner
@ $30.00
$30.00
1 Instant Winner
@ $25.00
$25.00
1 Instant Winner
@ $20.00
$20.00
1 Instant Winner
@ $15.00
$15.00


PAYOUT
77.3%
$510.00
PROFIT
22.77%
$150.00
Price
$26.84 - Each
$298.08 - Case OF 12
At The Bar - Form #1W660ATBC
Takes in 660
@ $1.00
$660.00
PAYS OUT
1 Seal Winner
@ $200.00
$200.00
or
2 Seal Winners
@ $100.00
$200.00
or
4 Seal Winners
@ $50.00
$200.00
1 Instant Winner
@ $45.00
$ 45.00
1 Instant Winner
@ $40.00
$40.00
1 Instant Winner
@ $35.00
$35.00
1 Instant Winner
@ $30.00
$30.00
1 Instant Winner
@ $25.00
$25.00
1 Instant Winner
@ $20.00
$20.00
1 Instant Winner
@ $15.00
$15.00


PAYOUT
77.3%
$510.00
PROFIT
22.77%
$150.00
Price
$26.84 - Each
$298.08 - Case OF 12
Self Isolation - Form #1W660SIC
Takes in 660
@ $1.00
$660.00
PAYS OUT
1 Seal Winner
@ $200.00
$200.00
or
2 Seal Winners
@ $100.00
$200.00
or
4 Seal Winners
@ $50.00
$200.00
1 Instant Winner
@ $45.00
$ 45.00
1 Instant Winner
@ $40.00
$40.00
1 Instant Winner
@ $35.00
$35.00
1 Instant Winner
@ $30.00
$30.00
1 Instant Winner
@ $25.00
$25.00
1 Instant Winner
@ $20.00
$20.00
1 Instant Winner
@ $15.00
$15.00


PAYOUT
77.3%
$510.00
PROFIT
22.77%
$150.00
Price
$26.84 - Each
$298.08 - Case OF 12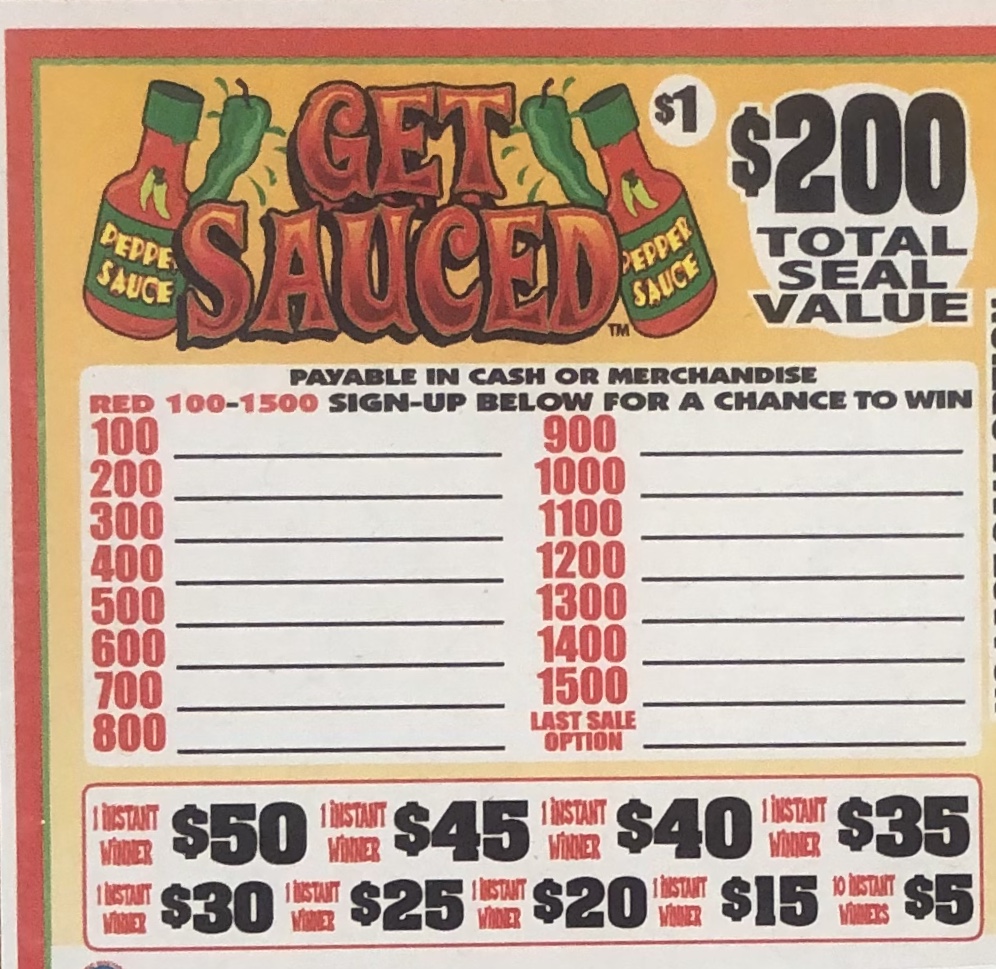 Get Sauced - Form #1W660GSC
Takes in 660
@ $1.00
$660.00
PAYS OUT
1 Seal Winner
@ $200.00
$200.00
or
2 Seal Winners
@ $100.00
$200.00
or
4 Seal Winners
@ $50.00
$200.00
1 Instant Winner
@ $45.00
$ 45.00
1 Instant Winner
@ $40.00
$40.00
1 Instant Winner
@ $35.00
$35.00
1 Instant Winner
@ $30.00
$30.00
1 Instant Winner
@ $25.00
$25.00
1 Instant Winner
@ $20.00
$20.00
1 Instant Winner
@ $15.00
$15.00


PAYOUT
77.3%
$510.00
PROFIT
22.77%
$150.00
Price
$26.84 - Each
$298.08 - Case OF 12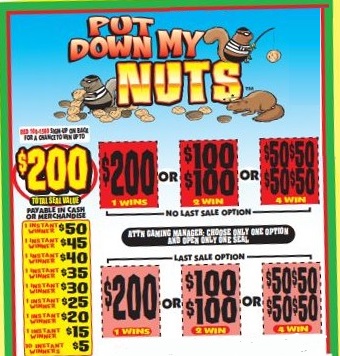 Put Down My Nuts - Form #1W660PDNC
Takes in 660
@ $1.00
$660.00
PAYS OUT
1 Seal Winner
@ $200.00
$200.00
or
2 Seal Winners
@ $100.00
$200.00
or
4 Seal Winners
@ $50.00
$200.00
1 Instant Winner
@ $45.00
$ 45.00
1 Instant Winner
@ $40.00
$40.00
1 Instant Winner
@ $35.00
$35.00
1 Instant Winner
@ $30.00
$30.00
1 Instant Winner
@ $25.00
$25.00
1 Instant Winner
@ $20.00
$20.00
1 Instant Winner
@ $15.00
$15.00


PAYOUT
77.3%
$510.00
PROFIT
22.77%
$150.00
Price
$26.84 - Each
$298.08 - Case OF 12